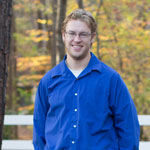 Who are you? Tell us all about Justin.
So you want to know more about Justin (me)? I am a father to three children, a husband to an amazing wife, a full time Software Engineer for Cisco Systems, a wedding photographer, a woodworker, and a sports junkie. I currently live in Raleigh, North Carolina, having moved there from Rochester, New York, in 2012. I have formerly lived in Rockville, MD, and Hainesport, NJ.
That's a diverse group of interests. How do you find the time?
I obviously don't do everything at once. Only my fatherhood and martial status are truly 24/7, while the other interests are simply slotted into my daily life.
Tell us more about your family.
My two older children are both in elementary school. They love being active, and both excel in mathematics. I wish I could take the credit for that, but honestly, they just soak up all the math workbooks and topics that we throw at them! The youngest is just a baby – he's content just being held all day long!
My wonderful wife is a full-time photographer, formerly of chelseasicklesphotography.com, now rebranded as kissmestudios.com. She's the one who nurtured my fascination with photography and encouraged me to take on wedding photography. I thank her every day for that opportunity, as it allows me to do something OTHER than working in front of the computer all the time.
What is your educational background?
I graduated from Rancocas Valley Regional High School in 2000. I followed that up with a degree from Rochester Institute of Technology, a Bachelor's in Science in Information Technology, earned in 2005.
What is your professional background?
I started my first web programming position all the way back in 2005. Shortly after I graduated, I was hired by a tiny startup company called BlueHat, who specialized in custom website solutions for various clients. I parlayed that experience into larger roles, spanning from Rochester, NY, to Rockville, MD, and Raleigh, NC. In each position, I worked as a web programmer (though under various titles such as Web Developer, Web Architect, and so on). I currently work as a Software Engineer at Cisco Systems, at their campus in Morrisville, NC. Cisco doesn't have a title for web application programmers, so we're lumped into the Software Engineer bracket.
I picked up photography in about 2011, when my photographer wife asked me to join her at a small wedding. My services were not required, but it was a great learning experience, and I fell in love with the nuances of taking a great photograph. Since that humble beginning, I have accompanied Chelsea on multiple other weddings, both for fun and as a second shooter; and I started shooting my own weddings after two years of second-shooting.
What else is there to know about Justin?
My two main hobbies are woodworking and playing sports. I also mix in a lot of other things, such as yardwork, household improvements, and small engine repair. Most of my woodworking is directly related to various home improvement projects we take on, but I do manage to squeeze out a personal project here and there. I enjoy following the Philadelphia Phillies baseball and Eagles football teams, in addition to participating in area league sports like softball and kickball.