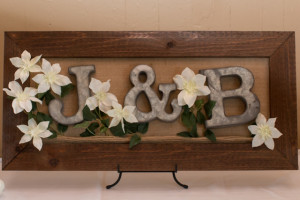 Before
Chelsea and I had the opportunity to photograph Jenny and Brad's Wilmington, NC, wedding yesterday. It was an all day affair with a two hour drive for us! We were expecting to leave the house at 8 in the morning, and probably be back between 8:30 and 9 that night.
Unfortunately, our babysitter called us at about 7:30 to let us know she was sick and could not make it out! We scrambled to find someone to watch the kids, and our friends from Cary were graciously able to take them on for the day. Thank you so much, Laura and Anthony!
During
Fortunately, we were still able to make it to the hotel by our assigned time of 10:30. We did the first look at 11, and most of the portraits before the cut-off time of 1 PM. These photos were taken on the Wilmington River Walk and various piers next to the hotel. The river and shore scenery led to some great backdrops. Even the USS North Carolina was visible! My favorite moment, however, was when an actual "pirate" ship came alongside and "broadsided" us with a five gun salute to our bride and groom. Their cannons certainly made everyone jump and laugh! I later found out that there was a Pirates Expo (or something like that) occurring in the Wilmington Harbor the same day.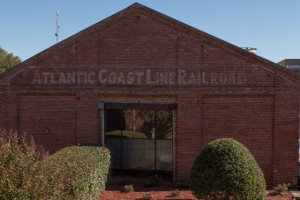 The ceremony was held at the adjacent Coastline Conference and Event Center, a historic building that was formerly a railroad storage facility. It had a great old-time industrial feel to it, with original sliding doors (used as decoration, not for protection from the elements!), fully exposed timber beam structures, and industrial-type lighting fixtures. The bride's family decorated the room with a bit of a wintery feel, pine wreaths, candles, and stringed lights everywhere. Cocktail hour was held outside on the covered porch, while the inside room was reset for the reception. During this time, Chelsea and I did family portraits, candid shots of the cocktail hour, and photos of the table settings.
Once the reception started, Chelsea and I were in full candid mode. We did pose a few shots, of course, but mostly we captured what was happening – the dances, the cake cutting, bouquet toss, and the garter toss. The guests all seemed to have had a great time, and it shows in their pictures! We did mange to steal the bride and groom away from the reception when the sun was starting to set, and we should have some amazing sunset/water photos from that!
The bride and groom exited via a horse drawn carriage at 6:30, and we were on our way home shortly after that. We got home with the kids at nearly 10 PM!
After
Our sneak peek will be posted on our Facebook page in a week or so, and all photos will be posted on our website, http://www.kissmestudios.com, in a month or so.